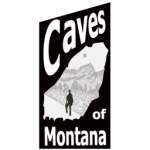 Caves of Montana is a non-profit project of the National Speleological Society (NSS), dedicated to finding, exploring, and surveying caves in the state of Montana. The goal of the project is to study and help preserve the state's valuable cave and karst resources. The project places particular emphasis on documenting all work done so that other individuals and groups may benefit from the findings.
As of 2013, Caves of Montana Project and Northern Rocky Mountain Grotto members have documented over 350 caves in the state that contain more than 50 feet (15.2 meters) of passage. New caves are found every year. Many of Montana's caves are located on public land, often in designated Wilderness areas. Montana has many significant caves, including the second-deepest limestone cave in the USA (Virgil the Turtle's Greathouse Cave at 1586 feet), as well as a beautiful show cave (Lewis and Clark Caverns State Park ) administered by Montana's Fish, Wildlife, and Parks division.
Cave locations are never published online and are not shared outside of the caving community, for the protection of the cave. If you would like to find caves and cavers in your area, please consider joining the Northern Rocky Mountain Grotto (nrmg.org) where you can meet other cavers, search the online library, hook up at local Pub Nights, and more!
We would like to thank our sponsors!